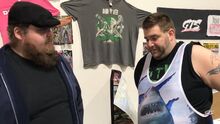 Whompis is one Grim's main allies, former GTS Intercontinental Champion and a 3-time GTS Hardcore Champion, until losing the belt a minute and twenty two seconds later to Rob Fury. The Whompis is a really mysterious character. On his Twitter page he claims to be 1,027 years old. He also claims to be from another planet. The planet is called Nonaym, which is half a lightyear south of Uranus, according to Whompis. Even though he hardly gets in the ring, he will put a fool in The Maniable Claw or The Cobra Clutch if they step out of line. Which he did when 'The Ice Demon' Jay Dempsey called Grim's grandmother stupid.
The Whompis is a part time wrestler on GTS Wrestling. He often films and provides commentary throughout the matches.
The Whompis is also known to referee for matches but is usually yelled at if he doesn't do anything to prevent someone from interfering into it. Even though Grim states "we don't have no rules on Grims Toy Show!" So technically Whompis really can't disqualify them. He also gets yelled at if he doesnt get down quick enough to count. However, The Whompis is only making sure he counts near the shoulders to make sure they are on the mat. So they yell at Whompis for being a great referee.
On February 20th 2017, It was revealed that The Whompis was the Twitter Troll Joanne Wolf.
The Whompis is a member of D-Generation Fat and is part of The Whack N' Whomp Express, a tag-team sub group of DF, alongside Lance Scaper.
On the May 5th 2017, Whompis defeated Matt Castle to win the GTS Intercontinental Championship.
In BFCW he plays The Whompinator.
In Wrestling
Edit
Finishing Moves

Mandible Claw (2016-present)Parodied from Mick Foley
Signature Moves

Lariat
DDT
Obese Mode! (Stinger Splash, with Theatrics)
Bulldog
Gorilla press slam
Diving shoulder block
Drop kick
Running elbow drop
Two handed chokebomb
Nicknames

"Frosty the Fuck-Face" (Called that by Grim when it was cold outside)
"The Loveable Loaf"
Championships & Accomplishments Edit
Entrance Music
Edit