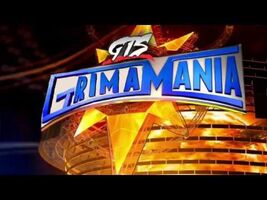 Grimamania is the flagship event of GTS and is a parody of WrestleMania. Grim has held 4 events since 2015
| No. | Match | Stipulation | time |
| --- | --- | --- | --- |
| 1 | The Beach Bums (Freddy IV, TJ Crawford & Brody) defeated The Shook Crew (Max Caster, Bryce Donovan & Bobby Orlando) | Six Man Tag Team Match; If The Shook Crew Wins They Get Grim's House, If The Beach Bums Win They Win Back Grim's Bank Account | 16:13 |
| 2 | Lance Scaper defeated Vinny Cenzo | Singles Match | 5:58 |
| 3 | Ace Marxman defeated Bruiser Bonifer (c) | War In The Woods Match for the HWC Championship; Loser Goes To a Mental Asylum | 4:12 |
| 4 | Ron Voyage (c) defeated Sodapop Smith | Suitcase Match for the GTS United States Championship | 6:19 |
| 4 | Foxx Vinyer defeated El Jefe Rojo & Hurrikid | 1 on 2 Handicap Match | 3:22 |
| 5 | Tommy Salami defeated Muscleman Malcolm | 1 on 2 Handicap Match | 9:45 |
| 6 | Rhett Titus & Jimmy Controversy defeated Robbie E & Tony Emerald | Tag Team Match | 8:56 |
| 7 | The Lunatic Ginge defeated Tony Chini (c), Dalton Hawkins, Yankee TDM, and Johnny Chill | Fatal Five Way Match for the GTS Intercontinental Championship | 6:15 |
| 8 | Sodapop Smith defeated The Lunatic Ginge (c) | Single Match for the GTS Intercontinental Championship | 0:23 |
| 9 | Kamakazzy won by last eliminating Hollywood Hooligan | Superpop Memorial Battle Royal | 7:46 |
| 10 | Kurt Bale defeated Kleetus Bailey | Anything Goes Match | 12:13 |
| 11 | Big Bruno defeated Dominic Truax | Single Match | 9:59 |
| 12 | Adam Bizarre defeated Tristan Balmer (c), The Lunatic Ginge, Bacon Corbin and Jay Medic | Fatal Five Way Match for the Loser Chumpionship | 7:14 |
| 13 | Tristan Balmer loses to Adam Bizarre (c) | Single Match for the Loser Chumpionship | 0:13 |
| 14 | Hollywood Hooligan defeated Ronnie Moses, Buster Jackson, Malcom Moss, Slenderdick and Rhett Titus | Food in the Fridge Ladder Match for the Food in the Fridge Briefcase | 10:32 |
| 15 | Ron Voyage defeated Jordan Oliver (c) and Griffin McCoy | Triple Threat Match for the GTS Hardcore Championship | 9:32 |
| 16 | Smart Mark Sterling defeated Foxx Vinyer (c) | Singles Match for the GTS Hardcore Championship | 0:03 |
| 17 | Ed the Ref defeated Smart Mark Sterling (c) | Singles Match for the GTS Hardcore Championship | 0:12 |
| 18 | Grim defeated Ed the Ref (c) | Singles Match for the GTS Hardcore Championship | 0:06 |
| 19 | Ron Voyage defeated Grim (c) | Singles Match for the GTS Hardcore Championship | 0:19 |
| 20 | Hollywood Hooligan defeated Foxx Vinyer (c) | Singles Match for the GTS Hardcore Championship | 0:13 |
| 21 | Jordan Oliver defeated Hollywood Hooligan (c) | Singles Match for the GTS Hardcore Championship | 0:15 |
| 22 | D-GeneratChin Fat (Grim & James Ellsworth) defeated Jay Evans & Joe Wolf (c) | Tag Team Match for the GTS Tag Team Championship | 12:34 |
| 23 | Duhop (c) defeated The Mark | Singles Match for the Youtube Wrestling Figures Heavyweight Championship | 18:56 |
| 24 | Kleetus Bailey defeated Duhop (c) | Singles Match for the Youtube Wrestling Figures Heavyweight Championship | 0:03 |
| 25 | Jay Evans & Joe Wolf defeated D-GeneratChin Fat (Grim & James Ellsworth) (c) | Tag Team Match for the GTS Tag Team Championship | 0:03 |
| 26 | Vlad Drago defeated Jake Cage (c) | 3 Stages Of Hell Match for the GTS Championship, If Vlad loses he will be Fired | 20:02 |
Trivia and Notes
Edit
Grim did not add any numbers or roman numerals to the events of Grimamania II and III, only calling them "Grimamania".
The Youtube Wrestling Figures Heavyweight Championship was not defended in the 2015 edition of Grimamania, but was defended 3 times in the 2017 edition.
On March 19th, 2018, James Ellsworth debuted for GTS and he was named Grim's mystery partner!