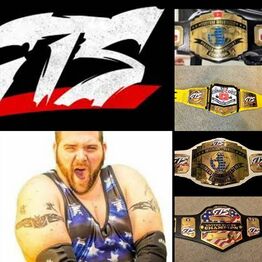 Welcome To the GTS Wiki. Where all the Grim's Toy Show fans can enjoy a wiki for the show. You can edit, add content, or just view pages. Do not hate on any pages if you hate the superstar that the page is about, Do not add fake info to GTS Pages. Making a fan card is not allowed. So enjoy the wiki.
It has come to the attention that a bunch of fan-card have been made by various users. As of October 22nd, 2018, these fan-cards are no longer allowed. The reason is because our goal is to provide accurate information here on the Grim's Toy Show Wiki, and fan-cards do not provide such information. If you would like to make a fan-card, please go to the Fanon wiki at
☀https://gts-wrestling-fanon.wikia.com/wiki/Grim%27s_Toy_Show_Fanon_Wiki --ConkerThePikachu.
PhenomenalArchitect is back, making edits and making the wiki a much better place.
Alright, so the wiki hasn't been as updated as it's used to, so let's kick up action everyone, i'm starting to edit more again, so let's make this wiki awesome- Llabball6
SILLYSUPERPOP - https://www.youtube.com/user/sillySUPERPO0
Grims Toy Gaming Show AND STUFF! - https://www.youtube.com/channel/UCJ9JW6eJSZwuSgheWIlaCWg
Grimmettes Toy Show - https://www.youtube.com/channel/UC-s6Cy_qvcJsyaWM9XTWE3Q
dollkats shoeshelf - https://www.youtube.com/channel/UCFMTB-cPdYBausYWS4xkokg
Grim's Twitter - http://twitter.com/GRIMSTOYSHOW
No False Information
No Non-GTS content or fan-cards.
No spamming
No Vandalism
No disrespecting other users. If you disrespect an admin, you will be blocked without question.
No being offensive, either in the articles or the comments section
The most important rule though, is to try to have fun.
Roster Page - http://grims-toy-show.wikia.com/wiki/GTS_Wrestling_Roster
Navigation - Looking
Community content is available under
CC-BY-SA
unless otherwise noted.