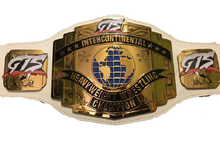 The GTS Intercontinental Championship is a championship in Grim's Toy Show where they crowned the first champion by a battle royal where the final two faced off in a hardcore match which came down to lowlife Louie and Tony Emerald which Tony Emerald (even after interference caused by Grim and other DF members) won.
Tony went on to defend it successfully in a gauntlet match after Matt Castle helped him. He later lost it to local GTS jobber Jimmy Controversy after a Grim Ending.
Jimmy only defended the championship once in a fatal 4 way were he technically lost after clowns captured him leading to Jay Dempsey (aka Ice Demon) to winning the championship.
Jay defended the championship multiple times until he lost it to Grim in a SWF match also for the YouTube Wrestling Figures Heavyweight Championship. He later won it back after taking Danny Dildo's Pimp Cara costume during his intercontinental championship match against champion Grim. Until Jay would eventually lose it to PITA Kid.
Once PITA Kid hadn't shown up with the belt in over a month grim made a number one contenders match which Bruiser Bonifer won by last eliminating Tommy Salami.
When it came down to the match it turned into a scramble involving the Tag Team Champions (first IC champion Tony Emerald and his partner Kleetus Bailey) The Whompis and Hardcore Champion Lance Scaper.
Grim announced on the October 25 edition of GTS he said the Mike Swanson or Jimmy aren't the intercontinental champion before the titles were stolen he was intercontinental champion. Steve Urkel remains Intercontinental Champion never vacated or lost.
The current champion is Duhop, who is his first reign.
List Of Champions
Edit
No.
Wrestler
Reign
Date
Days Held
Event
Notes
1
Tony Emerald
1
August 5, 2016
23
GTS Wrestling
2
Jimmy Controversy
1
August 28, 2016
25
GTS Wrestling
3
Jay Dempsey
1
September 22, 2016
17
GTS Wrestling
4
Grim
1
October 9, 2016
5
SWF
This match was also for Grim's YouTube Wrestling Figures Heavyweight Championship
5
Jay Dempsey
2
October 14, 2016
21
GTS Wrestling
6
PITA Kid
1
November 4, 2016
34
GTS Wrestling
7
Bruiser Bonifer
1
December 8, 2016
25
GTS Wrestling
8
Jimmy Controversy
2
January 2, 2017
7
GTS Wrestling
9
Vlad Drago
1
January 9, 2017
27
GTS Wrestling
---
Vacant
N/A
February 5, 2017
<1
GTS Wrestling

(Foot Brawl)

Vlad Got Deported So The Title Went Vacant
10
Matt Castle

(Interim)

1
February 5, 2017
6
def. No One
11
Mathias Glass

(Interim)

1
February 11, 2017
6
GTS Wrestling

(Penetration Chamber)

12
Vlad Drago
2
February 17, 2017
10
GTS Wrestling
def. Mathias Glass, & Matt Castle

Became The Undisputed Interim IC Champion.

13
Tommy Salami
1
February 27, 2017
31
GTS Wrestling

(FatLame)

14
Matt Castle
2
March 30, 2017
36
Grimamania
15
The Whompis
1
May 5, 2017
12
GTS Wrestling
16
Matt Castle
3
May 17, 2017
1
GTS Wrestling
17
Ulfrick Strongclaw
1
May 18, 2017
6
War for the Warehouse
18
Joe Wolf
1
May 24, 2017
41
GTS Wrestling
19
Mathias Glass
2
July 4, 2017
<1
GTS Wrestling
20
Joe Wolf
2
July 4, 2017
4
GTS Wrestling
def. Mathias Glass

Payed Mathias Off.

21
Kid Christian
1
July 8, 2017
42
Giant Sack of Heat
22
The Prodigy
1
August 19, 2017
22
GTS SuckaSlam
23
JJ Adams
1
September 10, 2017
12
GTS Wrestling
24
The Prodigy
2
September 22, 2017
<1
GTS Wrestling
This was a Tag Team Match between JJ Adams and The Prodigy vs Tommy Salami and Vlad Drago whoever got pinned became Intercontinental Champion. The Prodigy pinned Tommy Salami to win the Intercontinental Championship.
25
Ace Marxman
1
September 22, 2017
1
GTS Wrestling
26
Kurt Bale
1
September 23, 2017
37
No Money
27
Pete Corvus
1
October 30, 2017
36
Gts Halloween Havoc
28.
Kurt Bale

(With Pete Corvus)

(2)

(2)

December 5, 2017
8
GTS Wrestling
Pete & Bale Had A Double Pin Making Co-IC Champions.
December 6, 2017
7
GTS Wrestling
29
Kurt Bale
3
December 13, 2017
4
GTS Wrestling
30
Jay Evans
3
December 17, 2017
4
GTS Wrestling (Clash Of CockWagons)
def. Kurt Bale, Pete Corvus, Drax Maysin
---
Vacant
---
December 21, 2017
---
GTS Wrestling
31
Sodapop Smith
---
2
SodaPop Smith Stole All The GTS Championships

Unofficial Title Reign

32
Jay Evans
3
December 23, 2017
1
This was continuing reign for Jay.
33
Jordan Oliver
1
December 24, 2017
3
GTS Wrestling (Christmas Chaos)
Unwrapped In Christmas Chaos Match
34
Rhett Titus
1
December 27, 2017
9
GTS Wrestling
def. Jordan Oliver, Charlie Tiger, Griffin McCoy
35
Buster Jackson
1
January 5, 2018
38
GTS Wrestling
36
Grim
2
February 12, 2018
13
GTS Wrestling
37
Dalton Hawkins
1
February 25,2018
13
GTS Penetration Chamber
38
Tony Chini
1
March 10,2018
<1
GTS Fatlame
39
Dalton Hawkins
2
March 10,2018
5
GTS Fatlame
40
Tony Chini
2
March 15,2018
20
GTS Wrestling
41
The Lunatic Ginge
1
April 4th, 2018
<1
Grimamania (2018)
42
Sodapop Smith
1
April 4th, 2018
25
Grimamania (2018)
43
Kurt Bale
4
April 23,2018
6
PayBitch (2018)
On April 23, he told Grim that he cashed his Junk in the Trunk briefcase on Sodapop to become champion. On April 29, Sodapop told that Kurt didn't cash in on Sodapop and Kurt lied to Grim.

unofficial title reign

44
SodaPop Smith
2
April

29,2018

<1
GTS Wrestling
45
Kurt Bale
5
April

29,2018

6
GTS Wrestling
Cashed in his Junk in the Trunk briefcase on Sodapop.
46
SodaPop Smith
3
May 5,2018
1
GTS Wrestling
47
Red Van Damn
1
May 6,2018
4
GTS Wrestling
This was a man vs van match. Van pinned Smith by hitting him.
48
Kain Magyar
1
May 10,2018
13
GTS Wrestling
Kain pinned Van after Van were blocked by GTS Superstars.
49
Tommy Salami
2
May 23,2018
34
GTS Wrestling
50
Mike Swanson
1
June 26, 2018
<1
GTS Wrestling
51
Tommy Salami
3
Tommy challenged Mike for rematch
52
The Shadow Demon
1
16
53
Philly Mike Swanson
2
July 11, 2018
36
GTS Extreme Tools (2018)
Def Shadow Demon.

After IC title was stolen, new IC title was defended as paper title.

On August 3, 2018, the titles, with US title, was found by Grim at Grim's home where the titles was kept on Ed the Ref's car. Then on August 7, 2018, real IC title was defended.

54
Hollywood Hooligan
1
August 16, 2018
25
GTS SuckaSlam (2018)
This was a first ever First Blood Match.
55
Big Cal Stevens
1
September 10, 2018
2
GTS Wrestling
Mike Swanson was the special guest referee.
56
Stone Cold Steve Urkel
1
September 12, 2018
35
This match was a ladder match between Johnny Chill, Medical Mofo, Hollywood Hooligan, and Bruiser Bonifer.

On September 12, 2018, Michael Oscar Myers stole all the titles, including IC titles, from GTS.

---
Vacant
N/A
September 12, 2018
<1
GTS Wrestling
On September 12, 2018, Michael Oscar Myers stole all the titles, including IC titles, from GTS.
57
Philly Mike Swanson
3
October 16, 2018
1
GTS Wrestling
Swanson claimed he was the champion when he got it back from Duhop
58
Jimmy Controversy
3
October 17, 2018
8
GTS Wrestling
---
Vacant
N/A
October 25, 2018
<1
GTS Wrestling
Grim Stripped the Title from Jimmy Controversy due to the forget of Grim which Stone Cold Steve Urkel is the real champion.
59
Stone Cold Steve Urkel
2
October 25, 2018
1
GTS Wrestling
Grim awarded Stone Cold Steve Urkel the Championship
60
Lucha La Raza
1
October 26, 2018
32
GTS Wrestling
This was Lucha Rules Match between Kurt Bale, Hollywood Hooligan, Adam Bizarre, Hitman Jones, Onslaught, Manny Martinez , and Joe Dice
61
Jimmy Controversy
4
November 26, 2018
<1
GTS Wrestling
This match is started and ended outside the warehouse.

This was A Fall Count Anywhere Match

62
Blaxstrom
1
November 26, 2018
28
GTS Wrestling
This was an open challenge.
---
Vacant
N/A
December 24, 2018
<1
GTS Christmas Chaos 2018
The title is vacated due to Christmas Chaos.
63
Duhop
1
Current
Unwrapped in Christmas Chaos.

Duhop's title reign become Grand Slam Champion
Combined Reigns
Edit